With hospitality and events back in full-swing post-COVID, the needs of business and the demands of casual and temporary staff has evolved - and Hotelstaff has shifted with the industry to embrace the new face of workforce flexibility.
"What we are seeing in 2022 is that our clients are still seeking great output and efficient service, and now, more than ever, they want flexible and reliable staffing," said Nathan Szprinc, owner and Managing Director of Hotelstaff.
"Meanwhile, post-COVID, hospitality workers are leaving the sector in droves, seeking jobs with more flexibility and work-life balance.
"So as a key provider of casual and temporary hospitality talent, we have recognised the need to evolve, too."
Enter Hotelstaff 2.0 - the best chefs in town
Hotelstaff now specialises in providing the best quality culinary talent to the sector, with the mission to become Australia's largest culinary talent agency. Hotelstaff is excited to transform the way chefs are hired, and to continue serving an industry we love.
"The idea of being a one stop shop, providing every skill set, doesn't make sense any more," said Nathan. "The current challenges with staff shortages and the steep rise in wages to attract and retain talent means specialisation provides our clients with the greatest ROI and our chefs with unbeatable perks to enhance their satisfaction with chefing."
This is why, today, Hotelstaff is now the preferred supplier of chefs to the biggest caterers, stadia, racetracks and major events across the state.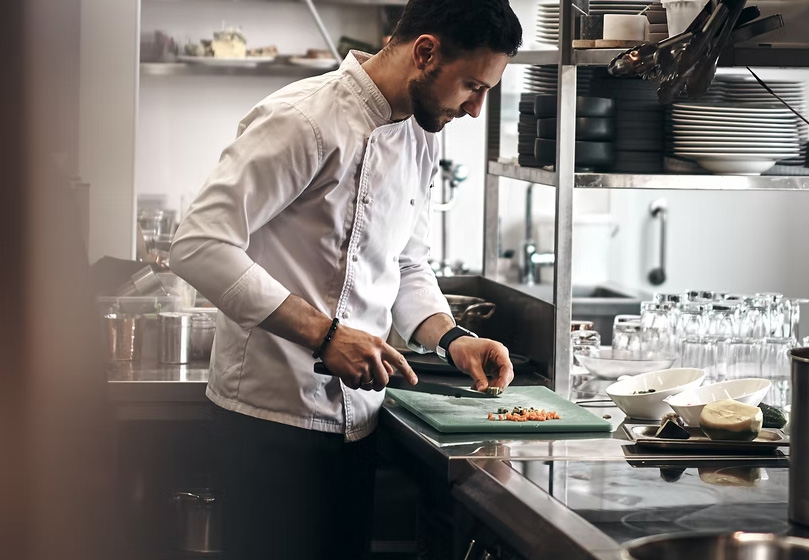 Clients have access to the 'best of the best'
Hotelstaff remain at the service of our loyal clients, and the transition to a chef-only talent agency stands to offer even more benefits to our clients.
Clients now have exclusive access to a huge pool of local and international culinary talent when they need them - including chefs from Michelin starred and Hatted restaurants who are currently working across Melbourne and greater Victoria.
On top of accessing the best available culinary talent, every client is matched with the right chef for their needs using a personalised roster.
"Instead of relying on technology, we hand-pick the best suited chef or team of chefs for every kitchen, for every event," said Nathan. "We know that we can't rely on an app to decide who goes where - this is about finding the best fit every time, to achieve the goals that our clients are looking for.
"This approach leads to a smooth running kitchen, and helps to deliver a successful event for our clients."
A focus on quality over quantity
To ensure the service delivery we've built our reputation on, Hotelstaff only hires the best applicants, which equates to only a small percentage of those who apply to work for us.
"The goal has always been quality rather than quantity," says Nathan. "This is proving to deliver a great result for our clients, and for our chefs, too.
"Our data shows that while our qualified and experienced chefs may come at a premium price, our chefs are more efficient and adaptable, show them once and they run with it - and this means better quality and consistent output from a smaller team - and this ultimately improves the return on investment for our clients."
And as the unpredictable consumer demand and competition for new hires continues, our clients are enjoying the flexibility of accessing quality casual talent that can be sourced at a moment's notice.
A haven for Australia's top chefs
Chefs across Australia are already choosing Hotelstaff as their employer of choice, with a wide range of benefits over other agencies and restaurants.
Hotelstaff has put the needs of chefs at the core of our new strategy. Instead of working in a single kitchen that often includes unpaid hours and high levels of stress, we've given them total control of their working hours.
"Everything we're offering to chefs is centred around their needs and providing a real work-life balance," said Nathan. "This offers chefs flexibility and freedom of casual work, while benefiting from great pay and the ability to clock off when their shift ends."
These benefits include regular staffing events and perks, and the Hotelstaff Chefs Awards Night, where we acknowledge their hard work and dedication with awards and rewards totalling more than $7,000 in its inaugural year.
"I've never had more satisfaction from chefing than I have today," said Anthony Tasca, ​​Hotelstaff's inaugural Chef of the Year. "I get to do what I love, earn great money, and have time to travel, spend time with my family, and even take a holiday. It's the shake-up that the industry needed, that chefs need."
Hotelstaff clients love it. And chefs love it too. Hotelstaff has already seen a significant shift in the attitude of our chefs; they're delivering more for our clients in exchange for flexibility and work life balance that traditional chefing in the hospitality industry doesn't afford.
And this is shifting the recruitment process. "Our chefs are not only loyal to the Hotelstaff method of work, and they're also actively referring other great chefs to come work with us," said Nathan. "This only fuels our current growth. I think it says a lot about our brand when we have more referrals than hires from traditional recruitment channels such as SEEK and LinkedIn."
"Hotelstaff began its business in 1986 in the kitchens of Melbourne. Now, we are returning to the kitchen to provide the best chefs in the business to our clients in the new world of hospitality talent management," said Nathan.
"We see this recent move as a natural progression that will benefit our clients and chefs with a more focused, personalised service, which will ultimately change the face of staffing in the hospitality industry, for the better."