Waiter/Bar/Retail– WHITE Ironed Men's Business shirt, BLACK tailored pants, BLACK fully enclosed leather shoes, BLACK socks, BLACK Tie, Waiters Friend, Name Badge, Note Pad & Pen, and Timesheets
Supervisor/Barista – BLACK Ironed Men's Business shirt, BLACK tailored pants, BLACK fully enclosed leather shoes, BLACK socks, BLACK Tie, Waiters Friend, Name Badge, Note Pad & Pen, and Timesheets
Chef/Cook –  LONG SLEEVE WHITE Chef Jacket, Black & White Small Check Pants, Apron, Skull Cap/Hat, Safety Shoes, Knife Kit, Timesheets
Kitchenhand – BLACK Polo Shirt/T-Shirt (no logos), BLACK Tailored Trousers, BLACK Apron, Skull Cap/Hat, Safety Boots, Timesheets
Catering Assistant – BLACK Polo Shirt/T-Shirt (no logos), BLACK Tailored Trousers, BLACK Apron, Skull Cap/Hat, Safety Shoes, Name Badge, Timesheets
Grooming
Freshly clean shaven or beards and moustaches that are short & well-groomed
Long hair styles must be tied back with accessories MATCHING hair colour, IN A TIGHT OR TIDY BUN or DONUT
Short hair styles must be very tidy & off the face, neatly trimmed & combed, conservative style and off the collar

Jewellery & Accessories
Watches – Conservative styles allowed in silver, gold or black
Rings – Wedding rings sets or 2 rings per hand are acceptable, no bulky styles
Bracelets – Medical only
Necklaces – No visible necklaces
Piercings – No facial piercings or visible body piercings, females may wear one pair of hoop or stud style earrings, no larger than a five-cent piece
Tattoos – No visible tattoos
Make Up – Natural & neutral tones only, do not overuse
Perfume / Cologne – do not overuse
Nail polish – Nails clean, short & well-manicured, no nail polish allowed
Further details to be advised if a group check-in is required
Enter via Clubhouse Main Entry and Report to Kitchen

Regional Coach from Southern Cross Station, Melbourne. Request further details from Hotelstaff.
Driving Instructions
From: Flinders Street Railway Station Flinders St, Melbourne VIC 3000
Take M2, Hume Fwy/National Highway M31 and C382 to King Parrot Creek Rd in Strath Creek 1 hr 18 min (107 km)
Continue onto King Parrot Creek Rd 9 min (11.8 km)
Continue on Goulburn Valley Hwy/B340. Take B300 to Kidston Parade in Mansfield 1 hr 2 min (92.8 km)
Continue on Kidston Parade. Drive to Malcolm St 2 min (1.0 km)
Mansfield Golf Club 24 Kidston Parade, Mansfield VIC 3722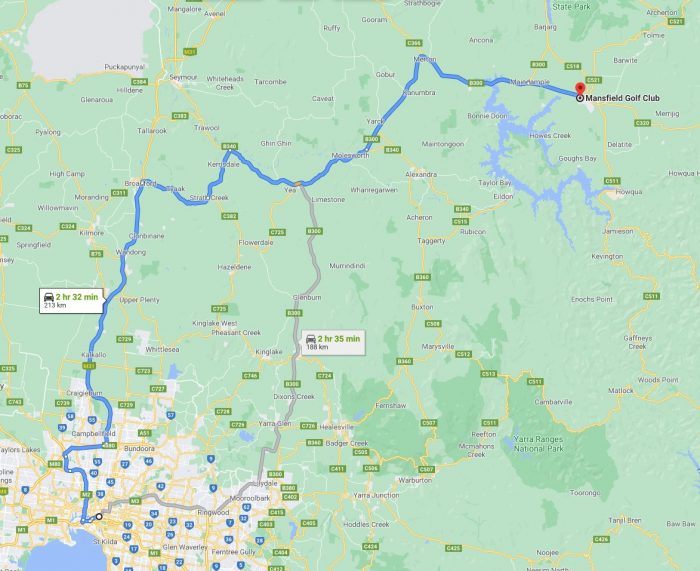 Onsite Parking
Street Parking
available around surrounding streets, time limits and fees apply
Parking Garages
Please note you will not be able to leave shift to move parking location while on shift.
Not required for this site