Waiter/Bar/Retail– WHITE Ironed Men's Business shirt, BLACK tailored pants, BLACK fully enclosed leather shoes, BLACK socks, BLACK Tie, Waiters Friend, Name Badge, Note Pad & Pen, and Timesheets
Supervisor/Barista – BLACK Ironed Men's Business shirt, BLACK tailored pants, BLACK fully enclosed leather shoes, BLACK socks, BLACK Tie, Waiters Friend, Name Badge, Note Pad & Pen, and Timesheets
Chef/Cook – WHITE Chef Jacket, Black & White Small Check Pants, Apron, Skull Cap/Hat, Safety Shoes, Knife Kit, Timesheets
Kitchenhand – BLACK Polo Shirt/T-Shirt (no logos), BLACK Tailored Trousers, BLACK Apron, Skull Cap/Hat, Safety Boots, Timesheets
Catering Assistant – BLACK Polo Shirt/T-Shirt (no logos), BLACK Tailored Trousers, BLACK Apron, Skull Cap/Hat, Safety Shoes, Name Badge, Timesheets
Grooming
Freshly clean shaven or beards and moustaches that are short & well-groomed
Long hair styles must be tied back with accessories MATCHING hair colour, IN A TIGHT OR TIDY BUN or DONUT
Short hair styles must be very tidy & off the face, neatly trimmed & combed, conservative style and off the collar

Jewellery & Accessories
Watches – Conservative styles allowed in silver, gold or black
Rings – Wedding rings sets or 2 rings per hand are acceptable, no bulky styles
Bracelets – Medical only
Necklaces – No visible necklaces
Piercings – No facial piercings or visible body piercings, females may wear one pair of hoop or stud style earrings, no larger than a five-cent piece
Tattoos – No visible tattoos
Make Up – Natural & neutral tones only, do not overuse
Perfume / Cologne – do not overuse
Nail polish – Nails clean, short & well-manicured, no nail polish allowed
Will be advised if required
The staff entrance is 1 Governor Rd South Melourne (At the back of the event space). Once at these doors please call Food & Desire's main line on 8646 6000 and someone will come & collect you.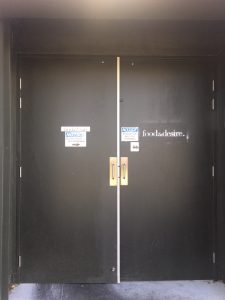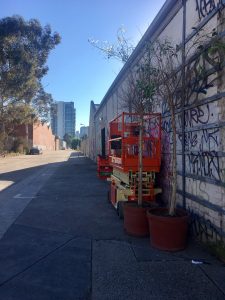 From; Flinders Street Railway Station Walk; About 1 min , 87 m  tram stop on Flinders Street - Stop 5 Catch tram 70 towards Waterfront City Docklands - 7 min (6 stops)
Get off at South Wharf/Wurundjeri Way (Docklands) Walk; About 16 min , 1.2 km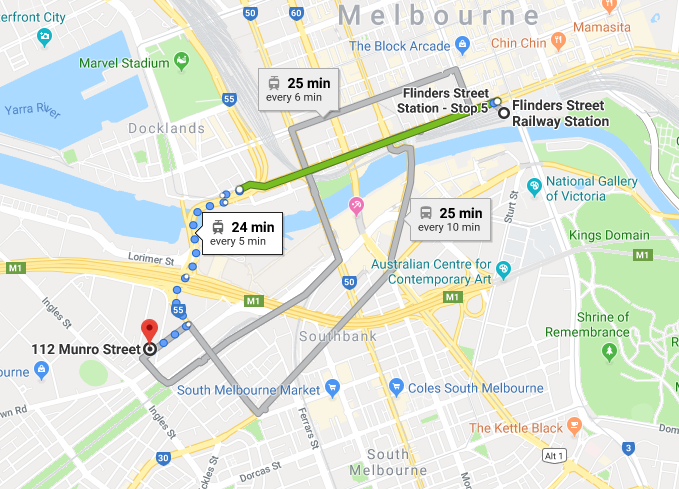 To plan your journey click: PTV Journey Planner
Onsite Parking
Street Parking
all day on-street parking located around the venue, however obtaining a park can be difficult
Parking Garage (Fees Apply)
Care Park off-street parking is located under the West Gate Freeway, on the corner of Munro Street and Montague Street. Entrance is located on Munro St. This car park is a 400m walk to our Munro Street Venue.
Please note you will not be able to leave shift to move parking location while on shift