Waiter/Bar/Supervisor/Retail/Barista/Cashier – WHITE Ironed Men's Business shirt, BLACK tailored pants, BLACK fully enclosed leather shoes, BLACK socks, BLACK Tie, Waiters Friend, Name Badge, Note Pad & Pen, and Timesheets
Chef/Cook – WHITE Chef Jacket, Black & White Small Check Pants, Apron, Skull Cap/Hat, Safety Shoes, Knife Kit, Timesheets
Kitchenhand – BLACK Polo Shirt/T-Shirt (no logos), BLACK Tailored Trousers, BLACK Apron, Skull Cap/Hat, Safety Boots, Timesheets
Catering Assistant – BLACK Polo Shirt/T-Shirt (no logos), BLACK Tailored Trousers, BLACK Apron, Skull Cap/Hat, Safety Shoes, Name Badge, Timesheets
Host - BLACK Corporate Dress (No Spaghetti Straps), BLACK Corporate Shoes (Heels or Flats, No Ballet Flats, Just Comfortable!)
Grooming
Freshly clean shaven or beards and moustaches that are short & well-groomed
Long hair styles must be tied back with accessories MATCHING hair colour, IN A TIGHT OR TIDY BUN or DONUT
Short hair styles must be very tidy & off the face, neatly trimmed & combed, conservative style and off the collar

Jewellery & Accessories
Watches – Conservative styles allowed in silver, gold or black
Rings – Wedding rings sets or 2 rings per hand are acceptable, no bulky styles
Bracelets – Medical only
Necklaces – No visible necklaces
Piercings – No facial piercings or visible body piercings, females may wear one pair of hoop or stud style earrings, no larger than a five-cent piece
Tattoos – No visible tattoos
Make Up – Natural & neutral tones only, do not overuse
Perfume / Cologne – do not overuse
Nail polish – Nails clean, short & well-manicured, no nail polish allowed
STRICTLY 45 mins BEFORE Shift Start Time
Will Be Required For All Days
Reporting for this time is critical for you to reach your area of work on time
Late Arrivals may be replaced with another team member
Location: Atlantic Group (Major Events) Uniform Room
After Entering Gate 1, Proceed Right to the Site Office
Report to the Hotelstaff Representative
Atlantic Group (Major Events) Site Office
Gate 1, Canterbury Road
Albert Park Victoria
View Map: https://goo.gl/maps/vkWyY7Jc4eC2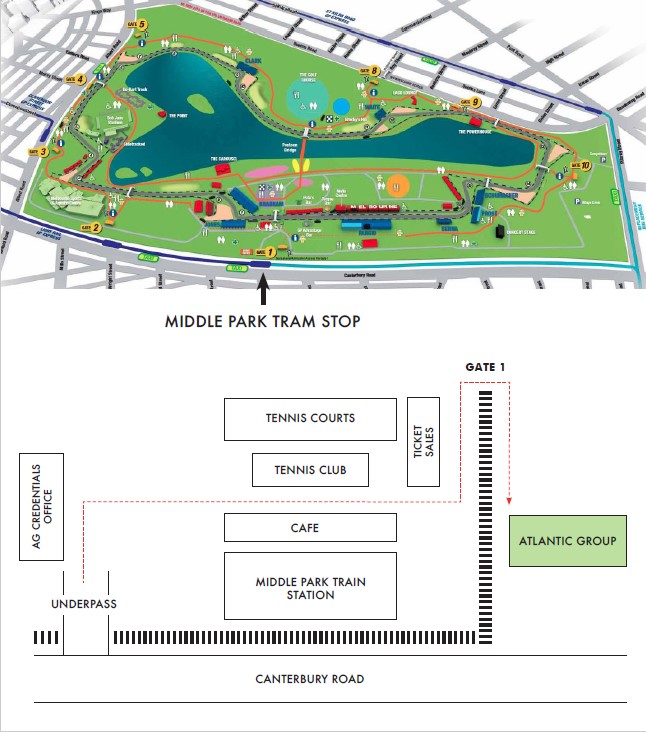 From Southern Cross train station (Corner Spencer Street and Collins Street), you catch the Grand Prix Light Rail marked for Gate 1.  Get off at the Middle Park stop.  The light rail is only marked with 'Gate 1' for the duration of the GP.  The tram route is formally the number 96 tram.
The light rail is a free service to all public, however if catching a train or another tram prior, you will require a valid Myki. The light rail is operational only for the four days of the event.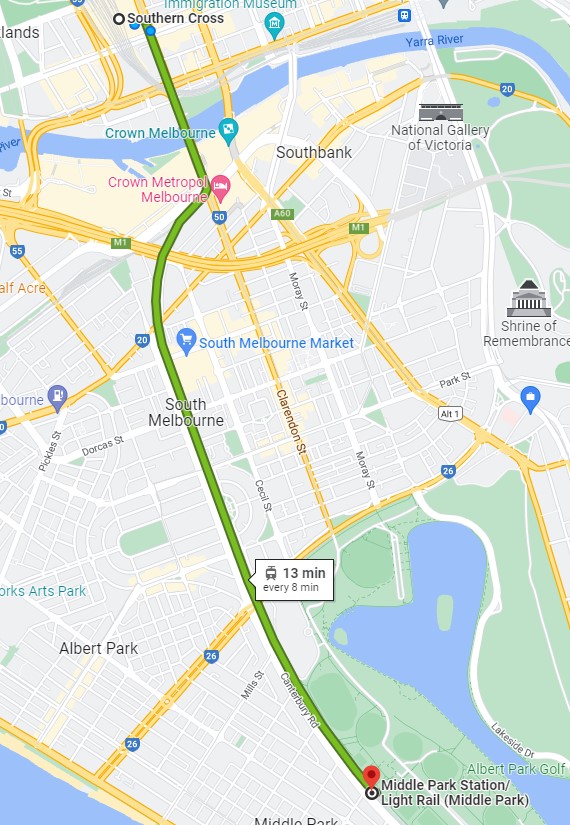 To plan your journey click: PTV Journey Planner
There is no parking close to the circuit.
It is recommended that you park in one of the car spaces in the city (you will need to pay) and then catch the Light Rail as above directly to Gate 1.
Not required for this site 
You will be supplied with a credential when you Check In Each Day.
Please ensure that you do not lose your credentials as you will not be able to gain access to the track without it.
Please ensure that you carry photo identification with you at all times (i.e. your driver's license etc.)
Hotelstaff Team Members MUST:
Check In on Arrival
Hotelstaff Timesheet Authorised by their Supervisor Daily
Also sign the Atlantic Group (Major Event) Timesheet in their Outlet
SUBMIT the previous day's timesheet to Hotelstaff Representative at next Check IN
Pay and Conditions
Pay and Conditions for this site are governed by the Hospitality Industry (General) Award 2010 [MA000009]. Pay Rates for Casual Classification apply as a Monday-Friday, Saturday, Sunday and Public Holiday rate. For details go to Click Here for Current Award Details OR Click Here for Pay Guide 
Individual Hotelstaff Timesheets are required 
Meal Break Provisions
All team members must bring their own meals to be consumed during 30-minute, unpaid scheduled breaks if shift exceeds 6 hours