Venue information:
July 26, 2017 10:32 am
17 Dukes Walk
South Wharf Victoria 3006
Uniform
Chef/Cook – WHITE Chef Jacket, Black & White Small Check Pants, Apron, Skull Cap/Hat, Safety Shoes, Knife Kit, Timesheets
Kitchenhand – BLACK Polo Shirt/T-Shirt (no logos), BLACK Tailored Trousers, BLACK Apron, Skull Cap/Hat, Safety Boots, Timesheets
Waiter/Bar/Supervisor – WHITE Ironed Men's Business shirt, BLACK tailored pants, BLACK fully enclosed leather shoes, BLACK socks, BLACK Tie, Waiters Friend, Name Badge, Note Pad & Pen, and Timesheets
Grooming
MALE – Hair neatly trimmed, conservative style and off the collar. Clean shaven, beards and moustaches short & well-trimmed
FEMALE – Long hair styles must be tied back with a black accessories, ponytail, braid, or tight bun acceptable styles
Check-in location
Further details to be advised if a group check-in is required
Staff entrance
Wait for a food&desire employee to escort you into the venue.
ONLY if no employee is visible, the agency staff entrance is located on Rona Walk at the bottom of the fire escape doors. As per the photograph to the left, the entrance is a fire safety door. Take the stairs up to the food&desire door which opens directly into the kitchen. The entrance code is: 4999. This code also unlocks the door at the top of the stairs opening out into the kitchen. Please ensure this code is kept secure and confidential.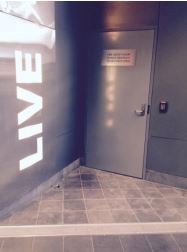 – Agency staff storage is available upstairs for personal belongings as well as this being the area for breaks
Public transport
From Southern Cross station catch tram #12 (St Kilda) #96 (St Kilda Beach) or  109 (Port Melbourne) and get off at Stop #124A Casino/MCEC, walk along the river 550 m (7 minutes) to site on the left.
To plan your journey click: PTV Journey Planner
Car parking
Please allow time to find a park as you are in an area that is shared with the DFO, Hilton Hotel and other restaurant/entertainment venues in the complex.